Wiki Targeted (Entertainment)
Play Sound
This article or section is under construction.
This article or section has been marked as being under construction, indicating parts are unfinished or inaccurate. Please help contribute by adding photos and information, correcting mistakes, and improving the overall quality.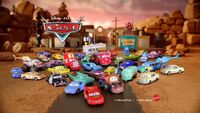 The 1:55 Scale Die-cast Line is a toy line manufactured by Mattel, that released several characters from the Cars franchise. For the first two years, only the main characters were released. But eventually, the line officially kicked off and came to release almost all of the characters of the trilogy.
Singles
2-Packs
Promo
6-Packs
27-Packs
Supercharged (2007)
Singles
2-Packs
Walmart Exclusive
Egg
Pumpkin
Snow Globe
Promo
3-Packs
4-Packs
5-Packs
6-Packs
7-Packs
8-Packs
10-Packs
World of Cars (2008)
Singles
Short Card
Megasize
2-Packs
Pit Row Race-Off
Kmart Exclusive
Promo
Convention Exclusive
3-Packs
4-Packs
5-Packs
Dinoco Blue - Bling Bling Lightning McQueen, Dinoco Chick Hicks, Dinoco Helicopter, Dinoco Lightning McQueen, The King
Dirt Track Challenge - Dirt Track Lightning McQueen, Doc Hudson, Flo, Ramone, Sally Carrera
Radiator Springs Friends - Cruisin' Lightning McQueen, Doc Hudson, Guido, Luigi, Tractor
36-Packs
Motor Speedway of the South - #4: Tow Cap, #8: Dale Jr., #28: Nitroade, #33: Mood Springs, #34: Trunk Fresh, #35: Shifty Drug, #36: Tank Coat, #39: View Zeen, #43: The King, #51: Easy Idle, #52: Leak Less, #54: Faux Wheel Drive, #56: Fiber Fuel, #58: Octane Gain, #61: Vitoline, #63: Transberry Juice, #64: RPM, #68: N2O Cola, #70: Gasprin, #73: Rev-N-Go, #74: Sidewall Shine, #76: Vinyl Toupee, #79: Retread, #80: Gask-Its, #82: Shiny Wax, #84: Apple, #84: Revolting, #86: Chick Hicks, #90: Bumper Save, #92: Sputter Stop, #93: Spare Mint, #95: Lightning McQueen, #101: Tach-O-Mint, 117: Lil' Torquey Pistons, 121: Clutch Aid, 123: No Stall
Race-O-Rama (2009)
Singles
Highway
Lenticular
Highway
Short Card
Highway
Lenticular Short Card
Synthetic Rubber Tires
Megasize
2-Packs
Pit Race-Off
Egg
Promo
Haulers
3-Packs
4-Packs
5-Packs
Story Tellers (2009)
Open up a world of action and adventure with the Disney Storyteller's Collection of books and toys. Disney/Pixar's World of Cars deluxe storybook features five existing stories with spectacular full-colour illustrations. Learn what life on the road was like for Lightning McQueen, Mater and the other townsfolk before they all met in Radiator Springs.
Singles
2-Packs
3-Packs
5-Packs
6-Packs
Mater says he used to be the famous bull fighter, El Materdor. Him and Lightning McQueen battled a ring of angry bulldozers!
Mater said he used to be a big rock star. He and Lightning McQueen jammed together in the Heavy Metal Mater band!
Mater says he used to be the world-famous daredevil, Mater the Greater. He and Lightning McQueen attempted the biggest stunt ever - jumping over Carburetor Canyon!
Mater says he used to be the monster truck superstar, The Tormentor. He and Lightning McQueen wrastled the biggest and baddest monster truck of them all!