She-Hulk Trailer Dropped - The Loop
Play Sound
"Oh, yeah! Whoo!"
—Al Oft, Cars
Al Oft is a recurring minor character in the Cars series. He is a blimp that works for the Piston Cup racing series and soars high above the sky during Piston Cup races, advertising for Lightyear, the official tire brand of the Piston Cup.
History
Cars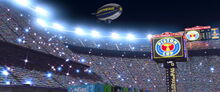 In Cars, Al Oft appears flying over the Motor Speedway of the South, watching the fireworks, much to his entertainment. He is later seen flying above the tie-breaker race in Los Angeles.
Cars: The Video Game
In Cars: The Video Game, Al Oft can be seen during Piston Cup races, flying high above the stadiums.
Cars Toons
Mater the Greater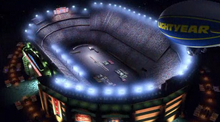 In Mater the Greater, Al Oft appears briefly at the beginning of the short, above the stadium.
Cars: Race-O-Rama
In Cars: Race-O-Rama, Al Oft can be seen flying over Santa Carburera.
Cars 2
In Cars 2, Al Oft is seen flying over Porto Corsa at the second World Grand Prix race.
Cars 3
In Cars 3, Al Oft, with a new paint job, is seen flying above the Motor Speedway of the South.
General information
Physical description
Al Oft is an Aaron Fullogas, a fictional blimp make and model in the Cars universe. "Fullogas" is a play on the words "full of gas" or "full o' gas."
Al Oft is painted grey, with blue and yellow lining. He has the "Lightyear" logo on each side.
Appearances
Profiles and statistics
Cars
Bios

"Al is high on life. As an endorsement billboard in the sky for the Lightyear Tire company (proud sponsor of the Piston Cup), he loves to provide those grand images high above the track. He's just happy that his job sends him to great sporting events, because he always has the best seat in the house!"[2]
Portrayals
Gallery
Names in other languages
Trivia
Al Oft is a reference to the real life "Goodyear" blimps. Rather than the "Goodyear" logo, Al has a logo saying "Lightyear," referencing Buzz Lightyear from Toy Story.
His name is a pun on "aloft."
His back portion reads "PAS1" as a reference to Pixar Animation Studios.
Colin Cowling has some resemblance to Al Oft.
References