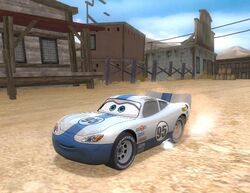 Autovia Town is located in the industrial area of Autovia, where there is an old western-style town. The town is one of the places where the Race-O-Rama series is hosted.
The town appears in the Cars Race-O-Rama video game, in Autovia.
For some unknown reason, most of the town's buildings have a "Trading Post" sign on their roof.