Spider-Man: No Way Home Trailer Dropped - The Loop
Play Sound


Barney Stormin
Character Information
Gender

Male

Eye color

Blue

Occupation

Professional Skyrighter
Barney Stormin is a Piston Cup skyrighter that first appeared in Cars, and later made a cameo in Cars 2: The Video Game. He is a Wacool Biplane Co. that is painted red and white, with white designs on his rear half.
History
Cars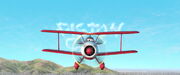 In Cars, Barney is writing in the sky above the tie-breaker race at Los Angeles, before quickly flying out of the way as Marco and the other fighter jets come rushing through.
Cars 2: The Video Game
In Cars 2: The Video Game, Barney makes a cameo up in the sky along with Props McGee during Radiator Springs races.
Other appearances
Barney also appears in the comic Air-Tow, in which he is having trouble with his engine, but he has to perform soon, causing him to seek the help of Mater, who uses his tow hook to fly Barney.
Appearances
Profiles and statistics
Cars
Bios

"Barney Stormin is a professional skywriter. His job not only requires aerobatic skill and relatively low winds, but most importantly, good spelling because as Barney likes to say, "There is no eraser in the sky.""
Gallery
Names in other languages
Polish: Bartek Śmigły
Russian: Барни Штурмовик (transcription: Barni Shturmovik)
Trivia
Barney's name is a pun on the term "barnstorming". Barnstorming is a form of entertainment in which airplanes perform aerial tricks for an audience.
Barney has a Cars Toons counterpart named Props McGee.
Cars 2: The Video Game
C.H.R.O.M.E. Missions
Unwelcome Aboard

•

In Plane Sight

•

Fast Friends

•

Airport Invasion

•

There's No Place Like Chrome

•

Oil Rig Showdown

•

Hit the Road

•

World Grand Prix

•

Runway Invasion

•

Porto Corsa Invasion

•

Objects in Mirror

•

Airport Showdown

•

Burning the Midnight Oil

•

Coastal Invasion

•

Runway Runaway

•

Harbor Hassle

•

Power Surge

•

London Showdown

•

Foe Interior

•

Hit or McMissile

•

Unfriendly Competition

•

Air Power

•

Rush Delivery

•

Italy Showdown

•

Tokyo Invasion

•

Save the Queen

•

Sour Lemons

•

Lightning the Mood

•

Home Security

•

Tokyo Showdown
Further info
Beta elements

•

Staff