Billy Oilchanger
General Information
Gender

Male

Color

Orange, black, yellow, white

Eye Color

Silver-Purple

Occupation

Piston Cup racer (former)

Series Information
First Appearance
Billy Oilchanger is an American racing stock car. He was Piston Cup racer sponsored by Octane Gain bearing the number 58.
History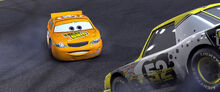 Billy Oilchanger is American racing stock car. Cirka 2000s seasons of Piston Cup Racing Series he was racer and member of team Octane Gain Racing. One of his mechanics was Dudley Spare. His dream was become a racing color commentator after he will retire. He had watched other commentators including Darrell Cartrip and Bob Cutlass over the years, and practices announcing by calling the races out loud to himself while he's in them, what was distracting other racers.
In 2006 he was racing during the 2005 Piston Cup season final race at Motor Speedway of the South. After Chick Hicks causes a huge accident between the majority of the competitors, a Oilchander finds himself face-to-face with Claude Scruggs. After that they are both hit by other cars.
Sometime between the 2006 and 2016 he either retires or gets fired by Octane Gain and was replaced by Bobby Swift.
Physical description
Aiken Axler is Piston Cup racing stock car Sherpa Motors Iota GT. He use Lightyear racing tires. He has sliver-purple eyes.
He is painted orange with black and yellow stripes on his sides. He has logo of Octane Gain on his hood and backsides and white number 58 with black background on sides and roof. He has stickers imitating lamps. He has orange spoiler and black rims.
Profiles and statistics
Cars
Biographies:

It's Billy Oilchanger's dream to become a racing color commentator after he retires. He's watched all the greats, like Darrell Cartrip and Bob Cutlass over the years, and even practices announcing by calling the races out loud to himself while he's in them. It's great experience, though the other drivers find it distracting and a little creepy.
source: Car Finder
Appearances
Trivia
Gallery
Names in other languages
Danish: Billy Olieveksler
German: Billy Ölwechsler
Polish: Olaf Olejny
Russian: Билл Маслосмен (transcription: Bill Maslosmen)