Bruce Miller
General Information
Gender

Male

Color

Yellow, orange, blue, white

Eye Color

Grey (Cars 3) Brown (artwork)

Occupation

Piston Cup racer

Series Information
First Appearance
Bruce Miller[1] is a professional race car who competed in the Piston Cup Racing Series and replaced Winford Bradford Rutherford. He raced for the RPM team, but was eventually fired and replaced by Barry DePedal.
History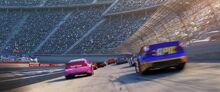 In Cars 3, Bruce competes in the 2016 Piston Cup season, but begins to have difficulty keeping up with next-generation rookies, such as Jackson Storm. Storm's success shines light on the next-generation of high-tech racers, which are more physically capable than traditional stock racers, and like many other stock cars, Bruce is fired and replaced by a next-gen named Barry DePedal.
General information
Physical description
Miller is based on an Axxelo Fission EA with Lightyear racing tires. He is painted yellow with an orange cab and back bumper, and a blue hood, spoiler and stripes going diagonally from his back. On his hood, backsides and trunk, he has the RPM logo, and on his roof and sides, he has the number 64 painted white with black borders. Above his front windows and on his front fenders, he has the black Lightyear logo. He has stickers imitating lamps, seven stickers of sponsors behind the wheels, and orange grey caps.
Personality and traits
Bruce is very kind, but he still takes his racing career seriously.
Gallery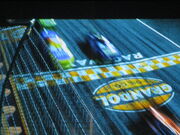 Trivia
References
Community content is available under
CC-BY-SA
unless otherwise noted.