Brush Curber
General Information
Gender

Male

Color

Yellow, red, white

Eye Color

Blue

Occupation

Piston Cup racer

Series Information
First Appearance
Brush Curber is one of the race cars for the Fiber Fuel team in the Piston Cup Racing Series. Brush is a Sherpa Motors Iota GT that is painted orange and yellow, with the number 56 on his doors and roof, as well as the Fiber Fuel logo on his fenders and hood. Between the events of Cars and Cars 3, Brush retires, but his sponsor does not appear in Cars 3.
History
Cars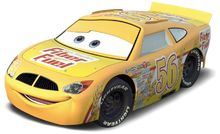 In Cars, Brush is seen competing in the Dinoco 400 at the Motor Speedway of the South. He is one of the cars involved in the large accident caused by Chick Hicks. During the wreck he was seen colliding with Kevin Racingtire.
The World of Cars Online
In The World of Cars Online, Brush was one of the opposing racers that the player faced at the Backfire Canyon Speedway.
Appearances
Profiles and statistics
Cars
Bios

"Brush Curber is considered to be one of the most consistent veteran Piston Cup contenders. Curber had numerous top ten finishes in the 2006 season, but a string of mid-season malfunctions severely side tracked his run for the Cup. With help from his Fiber Fuel sponsor and an overhauled diet, Brush purged his losing ways. He also attributes his resurgence to his loving wife of forty years, Katherine, and their fourteen children, Hal, Brush Jr., Penelope, Jake, Marty, Willard, Ingrid, Lucille, Scotty, Wendell, Aimee, Kassidy, Florence and of course Truman."[1]
Gallery
Names in other languages
| Language | Name | Meaning |
| --- | --- | --- |
| Polish | Bolek Przybandziak | Bolek Przybandziak |
Trivia
A 1:55 Scale Die-Cast of Brush Curber, with Lightning McQueen and Chick Hicks, appears at The Science Behind Pixar exhibition in one of the exhibit elements.
References