Cam Spinner
General Information
Gender

Male

Color

Blue, white

Eye Color

Blue

Occupation

Piston Cup racer of Triple Dent team

Series Information
First Appearance
"I like racing. That's it. I just like it."
—Cam Spinner, Cars 3: Driven to Win
Cam Spinner is American racing car. He is high-tech next-generation Piston Cup racer sponsored by Triple Dent, bearing the number 31.
History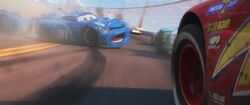 Cam Spinner is American high-tech next-generation racing car. He makes his debut in the Piston Cup Racing Series midway through the 2016 season, as racer of Triple Dent racing team replacing Terry Kargas. He makes his debut at the Heartland Motor Speedway and finishes in eighteenth place.
During 2017 season Florida 500 race at Florida International Super Speedway, Cam Spinner is starts at twenty-third position and then moves up into fifteenth position. Next, Spinner causes a crash by pushing himself too hard trying to get faster and pass other racers, thus blowing his rear tire. He spins out of control and hits Tim Treadless and the Leak Less racer. They slide across the track and hit other cars. Then he slides toward the wall, hitting Steve LaPage in the process. After that, he goes airborne and hits Harvey Rodcap when he gets back on the ground. He was severely damaged and does not finish the race.
Physical description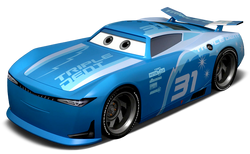 Rodcap is racing stock car of Piston Cup high-tech next-generation cars. He has a blue livery, with white stripes on his hood, spoiler, roof and side backs and racing number 31 painted on his roof and doors. He has the Lightyear racing tires. He has blue eyes.
Achievements
Appearances in video games
Cars 3: Driven to Win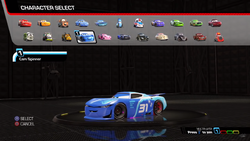 In Cars 3: Driven to Win, Cam Spinner is an unlockable playable character in Cars 3: Driven to Win. Like most of the playable characters, he is unlocked by completing an uncertain amount of skill checks.
Appearances
Gallery
Names in other languages
Trivia
See also
Community content is available under
CC-BY-SA
unless otherwise noted.