This is a list of beta elements for the game Cars: The Video Game.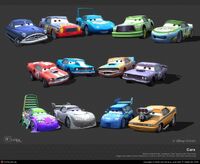 One of the artists for the game, Mark Van Haitsma, released character concept artwork on his website, showcasing some of the differences from the character artwork to their actual models.
Sonny
's spoiler folds were originally pointing down, but were later changed to point up. Additionally,
Cortland
's racing number was to be 4, but was changed to 191 for unknown reasons.
More content can be found in the localization files:
There could have been one more Piston Cup race called Pinehills International Speedway.
There could have been a race with Lizzie.
There could have been a mini-game where one can pave the road with Bessie. However, it was released in Java version of the game.
There could have been more to Doc's Lesson: Powerslide, such as Tilt.
There could have been a second part of the cut-scene for Los Angeles International Speedway with Darrell Cartrip introducing the race. One line from this cut-scene, "It doesn't get any better than this!", can be heard in the game's trailer.
There could have been a song, called Go Faster by The Black Crowds.
There could have been Piston Cup racers with the same model as Claude Scruggs.[1]
External links
References
Community content is available under
CC-BY-SA
unless otherwise noted.