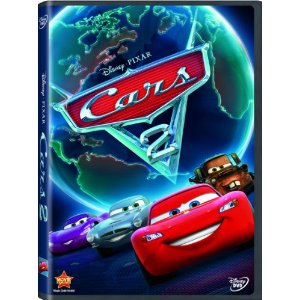 Cars 2
was released on DVD, Blu-ray, and 3D Blu-ray on
November 1st, 2011
in the United States, and
November 21st 2011
in the United Kingdom.
DVD
2-Disc Combo Pack
5-Disc Combo Pack
11 Disc Cars/Mater's Tall Tales/Cars 2 Combo Pack
Cars 2 iTunes digital download
Note: iTunes Extras are not available on an iPod, iPhone or iPad.
Scene Selections
Communique
Meet Finn
Escape
Radiator Springs
Mater Calls In
Travel Montage
Party
The Meet
Bathroom
Lemons' Lair
Japan Broadcast
First Lap
Mater's Date
Victory Lane
Airport
Mater's Note
Agent Mater
Paris
Holley's Big Idea
Uncle Topolino
Spy Train
Porto Corsa
infiltrating the Casino
Lemon-Heads
Mater Warns McQueen
Mater's Flashback
Big Bentley
The Bomb
London Chase
Buckingham Palace
Knightning Ceremony
Epilogue
End Credits
Community content is available under
CC-BY-SA
unless otherwise noted.