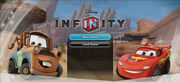 The
Cars Play Set
is one of the play sets in
Disney Infinity
.
Race to 
Radiator Springs
 to help 
Lightning
, 
Holley
,
Tow Mater
 and
Francesco
 prepare for an International Race Invitational.' B'ut watch out! Chick Hicks is about to put the skids on everything. Get in gear with our heroes plus Finn McMissile, Fillmore, Ramone and Flo and stop Chick in his tracks!
The Cars Play Set was released on August 18th, 2013, and is based on the Pixar movie Cars and its sequel. The play set takes place in Radiator Springs after the events of Cars 2.
You are able to play as Lightning, Tow Mater, Holley, Francesco, Finn McMissile, Luigi, Fillmore, Ramone,Flo, Guido, Strip Weathers, Shu Todoroki,Carla Veloso, the Tractors, and an unnamed Crane appear in this play set. Chick Hicks is the antagonist.
CharactersEdit
Playable CharactersEdit
Non-Playable CharactersEdit
Mission GiversEdit
Other CharactersEdit
LocationsEdit
BuildingsEdit
Cars Play Set Walkthrough Part 1Edit
Calibrate GPS
Meet Chick at the Barn
Take a Practice Lap
Chick's Challenge (First Try)
Clear the Race Track (Side Mission)
Jump at Flo's
Smash and Bash (Side Mission)
Purchase Turbo
Drifting Drill
Find Guido!
Chick's Challenge (2nd Try)
Cars Play Set Walkthrough Part 2Edit
Stunt Practice
Find Luigi's Crates
Follow Guido's Balloons
Track Trash Takedown
Luigi's Race Track
Balloon Poppin'
Race Reversal
Cars Play Set Walkthrough Part 3Edit
Stunted Growth
Corny Concoction
Tricky, Tricky
Gourd Gatherer
Bales of Fire
Rescue Ramone
Tow Ramone
Misplaced Paint
Cars Play Set Walkthrough Part 4Edit
Catch a Speeder
Buy Sarge's Hut
Postal Problem
In a Jam
Find a Friend to Race
Cave Race
Main Street Maker
New Paint Job
Collector Plates
Cars Play Set Walkthrough Part 5Edit
Spy Training
Tractor Tipping
Tractor Rescue
Stanley's Travels
Wrong Turn
Cars Play Set Walkthrough Part 6Edit
Storm Damage
Jump into the Barn
Little Bo Beep
Timed Tractor Tip
Performed Tricks
Out of Gas
Cozy Cone Launch
Cars Play Set Walkthrough Part 7Edit
Luigi's New Track
Double Back Dash
Ring Round Up
Double Tricks
Francesco's Challenge
Paint the Town!
Monster Mess
Cars Play Set Walkthrough Part 8Edit
Radiator Springs Invitiational
Grem appears in concept art, but does not appear in the actual game.
This is the only Play Set where the screen doesn't shake.
The Cozy Cone Motel appears as a building object. However,Sally Carrera, the owner of the motel, does not appear.
Despite Sarge and Sheriff not appearing in the game, Sarge was mentioned by Finn that he agreed to let Finn run Sarge's Surplus Hut  while Sarge is on vacation away from Radiator Springs. Flo mentions that the hut needs to be built since Sarge and Sheriff are on vacation, as well as mentioning Lizzie, who doesn't appear in the game either, as to find some of her license plates that are scattered around.