Charlie Checker
General information
Gender

male

Occupation

Piston Cup safety car

Place of residence
Vehicle information
Model

2004 Capitol Motors Econ 6 YL 3.0 Liter

Class

sedan

Paint colour

yellow, white, blue, red

Eye colour

blue

Series information
First appearance
Charlie Checker was a sedan that around 2006 worked as a safety car for Piston Cup Racing Series.
History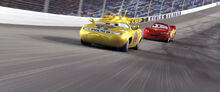 Charlie Checker was a sedan car that lived in the United States. Around 2006, he worked as a safety car for Piston Cup Racing Series. He worked as such during the final race of season 2006 at the Motor Speedway of the South in Motor City and later at the Los Angeles International Speedway during the rematch race. During one lap he was leading Strip Weathers and Chick Hicks around the speedway when Lightning McQueen managed to barely pass him when returning to the track from a pit stop. Sometime between 2006 and 2016, he got replaced by Pat Traxson.
Physical description
He was a 2004 Capitol Motors Econ 6 YL 3.0 Liter that was painted yellow, with the Piston Cup logo on his doors and hood, and the words "Official Pace Car" on his hood. He also had amber lights on his roof, and chrome rims. His eyes had blue colour.
Appearances in the comics
In the Such Work Pays Off from The Official Magazine, Charlie Checker is mend to lead the race car parade in Paris but he disappears just before it starts. When others find him, he has flat tyre and none of local mechanics has suitable tyres to replace it. Tow Mater decides to tow him during the parade instead.
Official profiles
Charlie Checker is the Piston Cup Official Pace Car. Charlie wears his amber lights with pride. He's no horsepower champ, but he doesn't mind. After all, he's always in the lead and NOBODY passes him, and that is exactly how he likes it.
Gallery
Trivia
Charlie's die-cast incorrectly depicted him with orange tail lights. However, Mattel later issued a correct version with the proper red tail lights.
Appearances
Feature films
Comics
Sources
Names in other languages
Community content is available under
CC-BY-SA
unless otherwise noted.