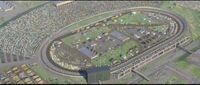 The Charlotte Springs Speedway is a stock cars racing circuit oval type. It appears in the Cars Teaser Trailer.
Finishing positions
Racer 57 (Corrosion Seal)
Racer 13 (Nitroade)
Racer 86
Racer 70
Racer 65 (Trunk Fresh)
Racer 1
Racer 22
Racer 52
Racer 65 (Oreo)
Racer 9 (Vitamin City)
Racer 8
Racer 85
Racer 9 (Pennzoil)
Racer 5
Racer 77
Racer 79
Racer 102
Racer 38
Racer 6
Racer 81
Racer 92
Racer 12 (pizza planet)
Racer 19
Unknown
Unknown
Unknown
Unknown
Trivia
The Charlotte Springs Speedway is inspired by the actual Charlotte Motor Speedway. It was as well seen in a Cars making feature on the Cars DVD/Blu-ray as part of inspiration for Cars.
Gallery
Community content is available under
CC-BY-SA
unless otherwise noted.