Jurassic World: Dominion Dominates Fandom Wikis - The Loop
Play Sound
""No, no, wasabi.""
—'Daisu Tsashimi', Cars 2, [[{{{3}}}]]
Daisu Tsashimi is a sushi chef that first appeared in Cars 2. He is an Alza Tutto Forklift that is painted white, with black lining around his doors and eyes, as well as a white and red headband. He is the brother of Edamame Tsashimi.
History
Cars 2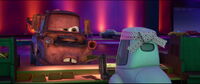 In Cars 2, Daisu is seen at the WGP welcome party in Tokyo, Japan. During the party, Mater comes to his stand and asks what he has that's free. He doesn't respond however, as Mater quickly reacts when he sees the wasabi, mistaking it for pistachio ice cream. He asks for some, and Daisu gives him a small morsel, confused as to why Mater seems to want a large amount of it. Eventually, Daisu gives him an entire box of wasabi, which Mater then tries to consume, only to cause great pain in his mouth, leading him to burst onto the stage as Miles Axlerod is speaking to Lightning McQueen. After drinking water out of the display on the stage, Mater turns to the audience and informs them to not eat the wasabi, as "it has turned". This chain of events is later recalled during Mater's flashback.
Cars 2: The Video Game
In Cars 2: The Video Game, Daisu can be unlocked as a playable character by gaining access to Clearance Level 6. He is one of the lightest characters in the game, and is more speedy than powerful.
Appearances
Profiles and statistics
Cars 2: The Video Game
Bio

"From the most elite kitchens in Tokyo comes Daisu Tsashimi. He knows his way around a kitchen, but it would be unwise to question his ability on a race track. Don't let his size fool you!"

Stats

Weight class: Light
Speed: 95
Power: 5
Portrayals
Gallery
Quotes
"My condolences."

original: お悔やみ申し上げます (Japanese) (romanisation: Okiyami moshi agemasu)
source: Cars 2

"No, no, wasabi."
Trivia
Cars 2: The Video Game
C.H.R.O.M.E. Missions
Unwelcome Aboard

•

In Plane Sight

•

Fast Friends

•

Airport Invasion

•

There's No Place Like Chrome

•

Oil Rig Showdown

•

Hit the Road

•

World Grand Prix

•

Runway Invasion

•

Porto Corsa Invasion

•

Objects in Mirror

•

Airport Showdown

•

Burning the Midnight Oil

•

Coastal Invasion

•

Runway Runaway

•

Harbor Hassle

•

Power Surge

•

London Showdown

•

Foe Interior

•

Hit or McMissile

•

Unfriendly Competition

•

Air Power

•

Rush Delivery

•

Italy Showdown

•

Tokyo Invasion

•

Save the Queen

•

Sour Lemons

•

Lightning the Mood

•

Home Security

•

Tokyo Showdown
Further info
Beta elements

•

Staff