watch 01:20
The Loop (Movies)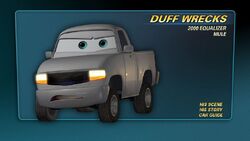 Duff Wrecks
Occupation: Pick-Up Truck
Performer: None
Duff Wrecks is a character in Cars.
Cars
Duff has a lot of steam to blow off, especially considering he's a diesel. He spends most of his time working out, pulling rigs at the gym, and practicing tough guy comebacks to himself in the mirror, but when faced with actual conflict, he's as shy as a 4-cylinder.
bigs
chuki
fred
clayton gentlebreeze
guido halseralor
axle police
Shiny Wax Hauler is gonna vote the page (page not found)
richard clayton kensington
hamm
raidiator springs gore gon truck
hank halloween murphy at raidiator springs d..
shelton magarafi
kit revster timothy twostroke and andrea
timothy timezone truecoat
duff wrecks
Community content is available under
CC-BY-SA
unless otherwise noted.