m

m

Line 1:
Line 1:
−

<table border="0" cellspacing="0" cellpadding="4" style="float:right; margin:0 0 .5em 1em; width:144px; background:#3366FF; border-collapse:collapse; border:1px solid #3366FF; font-size:smaller; line-height:1.5; ">

+

<table border="0" cellspacing="0" cellpadding="4" style="float:right; margin:0 0 .5em 1em; width:; background:#3366FF; border-collapse:collapse; border:1px solid #3366FF; font-size:smaller; line-height:1.5; ">

 

<tr style="text-align:center; background:#3366FF;">

 

<tr style="text-align:center; background:#3366FF;">

−

<td colspan="2" style="padding:0; background:#3366FF; color:#3366FF;">[[File:FernandoAlonso.jpg|300px]]</td>

+

<td colspan="2" style="padding:0; background:#3366FF; color:#3366FF;">[[File:FernandoAlonso.|]]</td>

 

</tr><tr style="color:#FFFF00; background:#3366FF; font-size:larger;">

 

</tr><tr style="color:#FFFF00; background:#3366FF; font-size:larger;">

 

<th colspan="5"><center>Fernando Alonso</center></th>

 

<th colspan="5"><center>Fernando Alonso</center></th>
---
Revision as of 09:55, 13 November 2011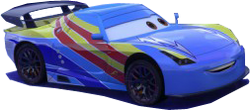 Fernando Alonso
Fernando Alonso is a character in the Spanish version of Cars 2.
Cars 2
Fernando Alonso represents Spain at the world championships at Tokyo, Japan. He wears light blue and the flag of Spain. Fernando not only competes on the track but is congratulated on his victory at Silverstone. He is a race car that Lightning McQueen meets at the World Grand Prix welcome party.
Appearance
Community content is available under
CC-BY-SA
unless otherwise noted.