H.J. Hollis
General Information
Gender

Male

Color

Green, purple

Eye Color

Green

Occupation

Piston Cup racer

Series Information
First Appearance
H.J. Hollis is American racing car. He is high-tech next-generation Piston Cup racer sponsored by N2O Cola, bearing the number 68.
History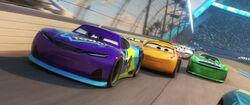 H.J. Hollis was American high-tech next-generation race car. He makes his debut in the Piston Cup Racing Series midway through the 2016 season, as racer of team N2O Cola Racing replacing Carl Clutchen. He is one of the six next-generation rookie racers who debut at the Motor Speedway of the South, with the other five being Aaron Clocker, Ryan Laney, Harvey Rodcap, Ed Truncan, and Tim Treadless. At the Los Angeles 500.
Physical description
Rodcap is racing stock car of Piston Cup high-tech next-generation cars. He has a green and purple livery, with his racing number painted on his roof and doors. He has the Lightyear racing tires. He has green eyes.
Achievements
Appearances
Appearances in commercials
Hollis makes cameo in German commercial of Allianz named Die neue Allianz Autoversicherung.
Behind the scenes
Hollis was next-generation racing car character created for Cars 3 movie. Before offical premiere of movie, he makes cameo in german commercial of Allianz named Die neue Allianz Autoversicherung. His name was first time relased on Mattel's 1:55 Scale Die-Cast toy series in diecast model from Cars 3 diecast serie. He also has version of Fireball Beach Racer of Cars 2018 serie that appear in 4-pack with Jackson Storm, Lightning McQueen and Cruz Ramirez.
Gallery
See also
Community content is available under
CC-BY-SA
unless otherwise noted.