Harvey Rodcap
General Information
Gender

Male

Color

Blue, white, black

Eye Color

Brown

Occupation

Piston Cup racer

Series Information
First Appearance
Harvey Rodcap is American racing car. He is high-tech next-generation Piston Cup racer sponsored by Easy Idle, bearing the number 15[1].
History
Harvey Rodcap was American high-tech next-generation race car. He makes his debut in the Piston Cup Racing Series midway through the 2016 season, as racer of team Easy Idle Racing replacing Carl Clutchen. He is one of the six next-generation rookie racers who debut at the Motor Speedway of the South, with the other five being Aaron Clocker, Ryan Laney, H.J. Hollis, Ed Truncan, and Tim Treadless. At the Los Angeles 500, he and Tim Treadless are close behind Lightning McQueen when he crashes, and they watch in shock as he goes airborne. Harvey finishes that race in fifth place. At the 2017 Florida 500, he is mainly seen in the middle positions. When Cam Spinner causes a crash, Harvey is hit by him and is sent careening toward the infield and receives minor damage, but he is able to continue racing. Harvey is finished that race in 25th place.
Physical description
Rodcap is racing stock car of Piston Cup high-tech next-generation cars. He has a blue, white, and black livery, with his racing number painted on his roof and doors. He has the Lightyear racing tires. He has brown eyes.
Achievements
Non-canonical appearances
Commercials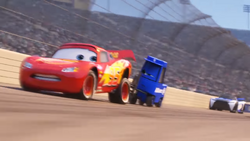 Rodcap makes cameo in German commercial of Allianz named Die neue Allianz Autoversicherung where he was one of cars racing on Los Angeles International Speedway. In that addvertisiment he was driving with heavily squinted eyes.
Appearances
Behind the scenes
Harvey Rodcap was next-generation racing car character created for Cars 3 movie. Before offical premiere of movie, he makes cameo in german commercial of Allianz named Die neue Allianz Autoversicherung. His name was first time relased on Mattel's 1:55 Scale Die-Cast toy series in Dot-Com 10-Pack with diecast models of Sally, Harvey Rodcap, Luigi, Guido, APB, Lightning McQueen (Rust-Eze Lightning McQueen variant), Danny Swervez, Cruz Ramirez (Dinoco Cruz Ramirez variant), Tex Dinoco, Cigalert and Tow Mater (one of unnamed variants).
Gallery
Trivia
Harvey Rodcap is incorrectly listed on several Cars 3 die-cast cardbacks as the name of the N2O Cola stock car racer, whose actual name is Parker Brakeston.
In the Los Angeles 500, the first shot of the race shows that he qualified in 2nd but in the next shot it is implied that he qualified in last place. The next shot shows that he did qualify in 2nd place but when the race starts he is seen in the back.
References
See also
Community content is available under
CC-BY-SA
unless otherwise noted.