Spider-Man: No Way Home Trailer Dropped - The Loop
Play Sound


Jan Kowalski
General information
Gender

Male

Occupation

Aero racer

Place of residence
Vehicle information
Class

Plane

Registration number

KS82410P

Paint colour

Dark green, red, white

Eye colour

Brown

Racing career
Racing competitions
Sponsors

Ryan Aviation

Competition number

15

Series information
First appearance
Jan Kowalski is an aerobatic aircraft, that was a racing pilot competing in the air races with number 15. He was sponsored by Ryan Aviation. In 2013 he had competed in the Wings Around the Globe rally race competition.
History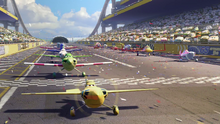 Jan Kowalski was an aerobatic aircraft that lived in Poland. He was a racing pilot who competed in the air races with number 15 and was sponsored by Ryan Aviation. During the competition he liked to prank fellow competitors together with his mechanic, Żarcik. His pranks included putting a stink bombs to other planes' exhaust systems or attaching banners with "Buzz me!" on them to their tails. Due to that other racers called him Polish Prankster and some of them always keep a sight on him during racers to protect themselves from his pranks.
In 2013 he competed in the Wings Around the Globe rally race, that had started from the John F. Kennedy International Airport in New York City, United States. He started the race from 9th position. During the first leg of the race, from New York City to Iceland he was on the 6th position. During the next leg, from Iceland to Germany he was on the 9th position. Later on he had finished the 3th leg of the race, from Germany to India on the 10th place. After other competitor of the race, Dusty Crophopper had crashed into the ocean and experienced damages putting him out of the race, Kowalski together with other racers gave him spare parts to help in his repairs allowing him to took part in the final leg of the race from Mexico City to New York City, United States.
Physical description
Kowalski was an a aerobatic and racing aircraft with dark green livery on the top and light green on the bottom. His wings and vertical stabilizers had a white and red checkerboard-like design. On his sides behind his cabin he had the Ryan Aviation logo. His horizontal stabilizer was dark green with white and red checkerboard-like stripe on it. He had black number 15 on his left wing and horizontal stabilizer. He had brown eyes.
His model was based on Zivko Edge 540 and Zivko Edge 540 v3 acrobatic planes. His body came from the Edge 540 v3 and the wings and fins of Edge 540.
Official profiles
Fellow racers affectionately refer to Jan as the "Polish Prankster". His pistons are always firing up ways to mess with his pals - whether it's putting a stink bomb in their exhaust systems or attaching a "Buzz me!" banner to their tails. Savvy racers keep this trickster on their radar, so they don't end up as the rudder of his jokes.
Achievements
Appearances
Feature films
Shorts
Trivia
His first and last name, Jan Kowalski, are one of the most popular names in Poland, and their combination is a metonymy of typical inhabitant of the country, being an equivalent of the average Joe expression. In January 2020, name Jan was firth most used male name in Poland while Kowalski and its female equivalent, Kowalska, second most popular surname.

There was a pilot named Jan Kowalski who was a captain in the Royal Air Force and the Polish Air Force, that fought in the World War II, including the Battle of Britain.

His wings have white and red squares in the chessboard-like design, which is a reference to the emblem of the Polish Air Force.
Competition number 15 was also used by: Carl Clutchen, Gordon, Lexi Lowdown, Jan Nilsson, Lightning McQueen, Harvey Rodcap and Max Sharpwork.
Gallery
See also
Sources