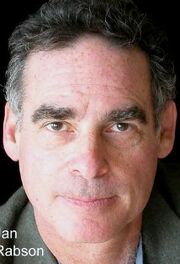 Jan Rabson (born June 14, 1954) was the gas station attendant and Mr. Mike in Toy Story, the voice of Axel in A Bug's Life and the Japanese businessman in Toy Story 2, the Sushi Chef in Monsters, Inc., additional voices in Finding Nemo, WALL·E, Monsters University and the Cars Toons: Mater's Tall Tales episodes Tokyo Mater, Air Mater and Time Travel Mater,T.J. Hummer and some racers in Cars, the construction worker and the TV announcer in Up and Sparks in Toy Story 3 and Toy Story 3: The Video Game.
Roles
Community content is available under
CC-BY-SA
unless otherwise noted.