Jerry Recycled Batteries
General information
Gender

male

Occupation

Recycled Batteries lorry

Place of residence
Vehicle information
Model

1981 Peterbilt 362

Class

articulated lorry

Registration number

7BL28

Paint colour

red

Eye colour

blue

Series information
First appearance
Performer
—Jerry Recycled Batteries, Cars
Jerry Recycled Batteries was articulated lorry that worked as transporter for Recycled Batteries.
History
Cars
In Cars, when Lightning McQueen wakes up in the middle of the highway after falling out of Mack's trailer, Lightning attempts to find Mack, and notices a truck turning on one of the exits. Lightning, believing this Mack, starts racing toward the hauler, only to discover that it is actually Jerry. The Peterbilt scolds Lightning for mistaking him for a Mack truck, and grumpily drives off.
General information
Physical description
Jerry is a large 1981 Peterbilt 362, a model that is based on a Cabover Engine Peterbilt 352. Although he is rather rusty, his maroon color is still visible, which is present on both him and his trailer. On his cap and trailer doors are pictures of recycled batteries. He has a grey bumper and rims.
Personality and traits
Jerry is grumpy and temperamental, and gets angry easy, especially when others mistake him for a Mack truck.
Appearances
Profiles and statistics
Cars
Bios

"Jerry's a pretty easygoing guy. Nothing makes him happier than running routes on the open road. No one to report to, no need to wash. It's the best! There's only one thing that can set him in a bad mood, and that's being mistaken for a Mack truck. After all, he's a Peterbilt and proud of it!"
Portrayals
Gallery
Names in other languages
Polish: Jarek Jaknówka
Russian: Джерри Аккумулятор (transcription: Dzherry Akkumulyator)
Trivia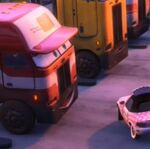 Jerry is Joe Ranft's final speaking part for Pixar before his death, since Red did not have any dialogue in the film except for crying noises.
The designs on his trailer were designed by John Lasseter's son.
In Heavy Metal Mater, His Recycled Batteries hat has a white background.
Community content is available under
CC-BY-SA
unless otherwise noted.