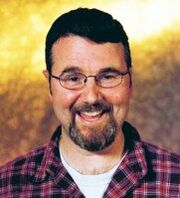 Joe Ranft
(March 13, 1960 - August 16, 2005) was a key creative member of
Pixar
. He was the co-director and writer of 
Cars
, and performed the voice of 
Red
 in the film. He died in a car accident on August 16, 2005.
Voices
Roles
Cars (co-director, writer, and voice actor)
Trivia
Ranft also had a cousin (Lisa Ranft), as shown in one of his videos on YouTube (called "(R.I.P JOE RANFT (MY COUSIN)").
Pixar's Cars and Tim Burton's Corpse Bride were the last two films that Ranft worked on, and they both were dedicated to him.
His real last speaking role was Jerry Recycled Batteries, and Red didn't speak much (only cried).