Cobra Kai Season 4 - The Loop
Play Sound
"Woah! Look, man. It's the Hudson Hornet!"
—Larry Camper, Cars
Larry Camper is a caravan that resides in Redneck Hill. He is a white 1980 Silverliner Coach 5.1 L V-8 Motor, a model that is similar to a 1991 Winnebago Itasca.
History
Cars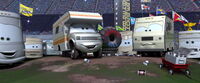 In Cars, Larry and R.M. can be seen among other caravans at the Motor Speedway of the South. Later, they appear when Lightning McQueen spins into the infield after being hit by Chick Hicks. Larry cheers on McQueen as he then returns to the track.
Larry and R.M. also attend at the Los Angeles International Speedway, where they are seen next to Albert Hinkey. When the crowd notices Doc Hudson, Larry excitedly informs R.M. of Doc's presence.
Cars 2: The Video Game
In Cars 2: The Video Game, Larry and R.M. are seen watching the Radiator Springs races.
Appearances
Profiles and statistics
Cars
Portrayals
Gallery
Trivia
Cars 2: The Video Game
C.H.R.O.M.E. Missions
Unwelcome Aboard

•

In Plane Sight

•

Fast Friends

•

Airport Invasion

•

There's No Place Like Chrome

•

Oil Rig Showdown

•

Hit the Road

•

World Grand Prix

•

Runway Invasion

•

Porto Corsa Invasion

•

Objects in Mirror

•

Airport Showdown

•

Burning the Midnight Oil

•

Coastal Invasion

•

Runway Runaway

•

Harbor Hassle

•

Power Surge

•

London Showdown

•

Foe Interior

•

Hit or McMissile

•

Unfriendly Competition

•

Air Power

•

Rush Delivery

•

Italy Showdown

•

Tokyo Invasion

•

Save the Queen

•

Sour Lemons

•

Lightning the Mood

•

Home Security

•

Tokyo Showdown
Further info
Beta elements

•

Staff