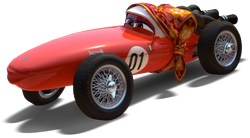 Mama Bernoulli
Occupation: Old Formula Racer race car
Performer: Unkown
Mama Bernoulli is Francesco Bernoulli's mother.
Bio
As the mother of Italy's winningest race car, Mama Bernoulli couldn't be prouder of her son, Francesco Bernoulli. As a former Grand Prix star herself, she taught him everything he knows. She used to attend every one of Franceso's races, but her motor can't take the oil pressure anymore. Every time a race begins, she shuts her windshield and whispers to II Gran Produttore ("the Great Manufacturer") to keep her little Francesco safe and, of course, to let him win!
Basis 
Mama Bernoulli is a 1961 Formula MB1.
Livery
Mama Bernoulli is red with a 01 in her side, and she has hair that leads to her exhaust pipes. She also has chrome rims, much like Finn McMissile's.
Appearances
Feature Films
Trivia
Mama Bernoulli appears to be wearing a bonnet.
Gallery
Community content is available under
CC-BY-SA
unless otherwise noted.