Marty Statler
General Information
Gender

Male

Color

Brown

Eye Color

Blue

Occupation

Musician

Series Information
First Appearance
Marty Statler is pick-up truck who appears in Planes: Fire & Rescue.
Bios
"A member of rock band the Pinheads, Marty had been off-roading all throughout Piston Peak National Park when he arrived at the newly renovated Fusel Lodge for the evening. Eager to check into his room after a long hike, mud-covered Marty was puzzled about why Cad Spinner would make him use the service entry instead of rolling through the main entrance...."
Trivia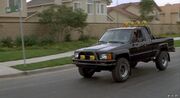 Marty Statler is a parody for Marty McFly, 'Back to the Future' protagonist, and his black Toyota Statler. In the film, Marty McFly too was member of 'Pinheads' rock band. 
"Pit Stop!"


This article is in need of a pit stop, so it can be at full speed. You can help Guido by expanding this page.
Planes: Fire & Rescue
Songs
Still I Fly • Runway Romance • All In • Planes: Fire & Rescue - Main Title • Propwash • Out of Production • Dusty Crash Lands • Fire! • An All New Mayday • Sad Mayday • Pontoons • A Special Kind of Plane • Training Dusty • We Got the Gear Box • Cad • Blazin' Blade Mystery • Mystery of Blaze-Lightning • Lightning Storm Fire • (It's) Hip to Be Cad • Harvey & Winnie • Cheers • Nobody Has Your Gear Box • Fire By the Lodge • Behind Enemy Lines • Evacuation • Blade Is Down • Loopin' Lopez • Tourist Trapped • Fire Heroes • Rescue Harvey & Winnie • Dusty Saves the Day • Saving Dusty • You Had Us Worried
Community content is available under
CC-BY-SA
unless otherwise noted.