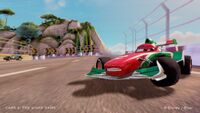 Powersliding
(also referred to as drifting) is a technique in the
Cars
series, most notably in the video games. It allows the user to take turns easier and sharper, allowing for much smoother and successful results. Performing this technique requires for the player to hold whichever button corresponds to the action, depending on which controller and control scheme the player is using. In
Cars 2: The Video Game
,
Disney Infinity
, and
Disney Infinity: 2.0 Edition
, whenever the player drifts, it will fill up a turbo meter. The player can use the turbo meter to perform a short mini-boost that will aid the player in winning the race. In
Cars 2: The Video Game
, if the turbo meter is filled up, the player can perform an "In the zone" ability, which lets the player form a force field and travel at remarkable speeds.
In Cars: The Video Game, Cars: Mater-National Championship and Cars: Race-O-Rama, performing a powerslide will award the player a small amount of bonus points.
Names in other languages
| Language | Name | Meaning |
| --- | --- | --- |
| Spanish | Powersliding | Powersliding |
| French | Glissant | Sliding |
Disney Infinity
Power Discs
Series 1


Bolt's Super Strength • Fix-It Felix's Repair Power • C.H.R.O.M.E. Armor Shield • Pieces of Eight • Mickey's Car • Cinderella's Coach • Khan • Stitch's Blaster • Carl Fredricksen's Cane • King Candy's Dessert Topping • Sugar Rush Sky • Alice's Wonderland • Tulgey's Wood • Marlin's Reef • Nemo's Seascape • Rapunzel's Kingdom • Rapunzel's Birthday Sky • Dumbo the Flying Elephant • Astro Blasters Space Cruiser • Abu the Elephant
Series 2
Ralph's Power of Destruction • Dr. Doofenshmirtz Damage-inator! • Electro-charge • Star Command Shield • User Control • Pizza Planet Delivery Truck • Maximus • Headless Horseman's Horse • Flamingo's Croquet Mallet • Hangin' Ten Stitch with Surfboard • Mike's New Car • Frozen Flourish • Chill in the Air • New Holland Skyline • Victor's Experiments • Halloweentown Sky • Jack's Scary Decorations • Electric Mayhem Bus • Condorman Glider • Jolly Roger
Series 3
Chernabog's Power • Mickey's Sorcerer Hat • Violet's Force Field • Rapunzel's Healing • Angus • Phillipe • Calico's Helicopter • Cruella de Ville's Car • Tantor • Dragon Firework Cannon • Toy Story Mania Blaster • WALL-E's Collection • Buy 'N' Large Atmosphere • WALL-E's Fire Extinguisher