Radiator Springs Racers is gonna be the biggest attraction in Cars Land. It's gonna be 6 acres big out of the 12 acres total, half of Cars Land. You're gonna be riding in cars, one racing with another. One of the cars will be yellow, and the other will be red.
However, the race is not everything. Before the race, you will meet some of the characters in Radiator Springs. First, you will take a drive through Tailfin Pass, and see a waterfall. Then, when you go into a tunnel, it will be dark, and you will almost crash into Mack, Van, Minny, and a train. Then you meet Sheriff. You think he's gonna give you a ticket, but he's really helping you get to the big race. He will call Mater to take you to the race. Mater decides to take you tractor tipping, in which you get chased by Frank in the end. Finally, you arrive in Radiator Springs, where you'll meet Lightning McQueen and Sally. They will either tell you to go to Luigi's Casa Della Tires or Ramone's House of Body Art. At Luigi's Casa Della Tires, Luigi and Guido will change your tires. Then, for both sides, Doc Hudson will give you some racing advice, saying that you will need more than tires or paint to win the race. Finally, you line up at the starting line, and Luigi and Guido will start the race. The race goes around Radiator Cap Mountain, then around Willy's Butte. After Willy's Butte is the finish line. You'll go into a tunnel for Taillight Caverns, where Mater and Lightning McQueen say you did a good job.
Bio
Buckle up at
Radiator Springs Racers
and compete with other speed seekers! Zip over hills, zoom around banked turns and cruise down straight-aways past the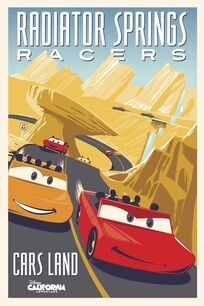 spectacular red-rock formations of
Ornament Valley
. Some of your favorite friends, like
Sally
,
Luigi
,
Guido
,
Mack
and
Ramone
, can be seen at the track.
Gallery
External links