Rotor Turbosky
General Information
Gender

Male

Color

Light blue, white

Eye Color

Light blue

Occupation

Dinoco helicopter

Series Information
First Appearance
Performer

Unknown (Cars: Radiator Springs Adventures)
"Don't you worry, everything's under control!"
—Rotor Turbosky, Cars: Radiator Springs Adventures
Rotor Turbosky is a helicopter that works for Dinoco. He is a Whirlybird Liftalot, a model considered as high performance. He is painted blue, with the Dinoco logo on either side above his doors, as well as the King's logo. He has large black blades and two blue fins next to his "nose".
History
Cars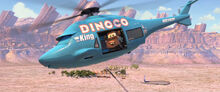 In Cars, Rotor appears at the end of the film, when Lightning McQueen fulfills his promise to his friend, Mater, by asking Tex Dinoco, the owner of Dinoco, for a helicopter ride, which is apparent at the end of the movie when Mater is flying over Radiator Springs, happily singing.
Cars: Radiator Springs Adventures
In a Cars: Radiator Springs Adventures activity called Chopper-Hopper, where Mater is waiting for him to give him a ride around Cadillac Range. In the game, the player has to move Rotor up and down while avoiding clouds and mountains.
Disney Infinity
In Disney Infinity, Rotor delivers the toys purchased from the Toy Store in the Cars Play Set.
Cars: Fast as Lightning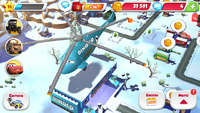 In
Cars: Fast as Lightning
, Rotor can be seen on top of the Dinoco stand accessory. He transports characters whenever there is an active event.
Appearances
Profiles and statistics
Cars
Gallery
Names in other languages
| Language | Name |
| --- | --- |
| Polish | Rotor Turbulencki |
| Russian | Ротор Турбовинт |
Quotes
"Hope you enjoyed it!"
—Rotor Turbosky, Cars: Radiator Springs Adventures
"Hey there Mater!"
"Hey buddy!"
"You ready to go for a little spin around Cadillac Range?"
"Alright! Hey McQueen. You wanna come along?"
"Ah. Maybe next time."
"Well alright then, but you don't know what you is missin'. Woohoo!"
—Rotor Turbosky, Tow Mater, and Lightning McQueen, Cars: Radiator Springs Adventures
References
Disney Infinity
Power Discs
Series 1


Bolt's Super Strength • Fix-It Felix's Repair Power • C.H.R.O.M.E. Armor Shield • Pieces of Eight • Mickey's Car • Cinderella's Coach • Khan • Stitch's Blaster • Carl Fredricksen's Cane • King Candy's Dessert Topping • Sugar Rush Sky • Alice's Wonderland • Tulgey's Wood • Marlin's Reef • Nemo's Seascape • Rapunzel's Kingdom • Rapunzel's Birthday Sky • Dumbo the Flying Elephant • Astro Blasters Space Cruiser • Abu the Elephant
Series 2
Ralph's Power of Destruction • Dr. Doofenshmirtz Damage-inator! • Electro-charge • Star Command Shield • User Control • Pizza Planet Delivery Truck • Maximus • Headless Horseman's Horse • Flamingo's Croquet Mallet • Hangin' Ten Stitch with Surfboard • Mike's New Car • Frozen Flourish • Chill in the Air • New Holland Skyline • Victor's Experiments • Halloweentown Sky • Jack's Scary Decorations • Electric Mayhem Bus • Condorman Glider • Jolly Roger
Series 3
Chernabog's Power • Mickey's Sorcerer Hat • Violet's Force Field • Rapunzel's Healing • Angus • Phillipe • Calico's Helicopter • Cruella de Ville's Car • Tantor • Dragon Firework Cannon • Toy Story Mania Blaster • WALL-E's Collection • Buy 'N' Large Atmosphere • WALL-E's Fire Extinguisher