Rust-eze
Object Information
Type

Ointment

Use

To make bumpers shine

First appearance
Latest appearance
Rust-eze is a American company owned by Dinoco. It sold medicated bumper ointment, with a rear end formula, for cars with rusty bumpers, to eradicate rust. It was created years ago by Rusty and Dusty Rust-eze and since then became recognized trademark in United States. In 2016 it was sold to Sterling and bought from him by Dinoco later that year.
History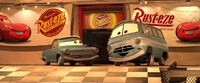 Company was started in 1990 by Rusty and Dusty Rust-eze who were working on its flag product, medicated bumper ointment, in their mother's garage in Boston, Massachusetts. In more than 10 years Rust-eze become recognized trademark in United States. In 2005 company announced casting to new face of marketing captains, which was won by Lightning McQueen. This same year company's racing team, Rust-eze Racing joined Piston Cup Racing Series with number 95 and McQueen as their racer. His racing achievements gave huge publicity. Between a period of 10 years the racing car has won 7 Piston Cups. In 2016 after crash of McQueen during race, company was sold by brothers to businessmen called Sterling. New owner build Rust-eze Racing Center where next-generation racers where training to become Rust-eze representatives on Piston Cup Racing Series after retirement of McQueen, who however decided to take part in 2017 Florida 500 before ending with racing. During race he changes with Cruz Ramirez who was race. After that McQueen retired and company was sold to Dinoco making Rust-eze and Dinoco the same company.
Products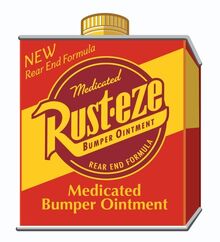 Flag product of company is medicated bumper ointment, with a rear end formula. The product guarantees a shiny result instantly with actual results that may take up to 36 weeks.
Sport
Rust-eze Racing was company's official team during racing events including Piston Cup Racing Series where they racer was using number 95. It existed between 2005-2016. During that period company had 2 major racers: Lightning McQueen that was their flag racer during entire era and Cruz Ramirez that was racing on 2017 Florida 500 as substitute racer.
To team belonged many cars. In 2005 to team were hired and fired 3 crew chiefs and after that to 2009 Doc Hudson was working on that occupation. Original team of mechanics including Not Chuck quit the team on end of 2005 and was replaced by Luigi, Guido, Sarge, Fillmore and Tow Mater for race on Los Angeles International Speedway. After that new team was hired but after 2011 team of LA have been recruited again. During entire era of existing of team, Mack was working as its transporter and racing car driver.
List of workers
Owners
Racing cars
Crew chiefs
Racing team crew
Trainers
Haulers
Others
Non-canonical informations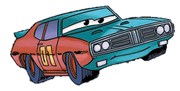 Trivia
Gallery
Names in other languages
Community content is available under
CC-BY-SA
unless otherwise noted.