The Rust-eze Racing Center is an organization promoted by Rust-eze, as well as Team 95, Lightning McQueen's racing team.
Racing trainer Cruz Ramirez is employed here, and she bears the facility's emblem on her sides.[1] Ramirez helps to train McQueen when he arrives at the Racing Center seeking assistance.[2]
Cars 3
Mack brings Lightning McQueen at the Rust-eze Racing Center where he meets Cruz Ramirez who calls this her"senior project".From there on Lightning McQueen and Cruz Ramirez along with the help of Guido and Luigi will prepare to beat Jackson Storm in the Florida 500.
Gallery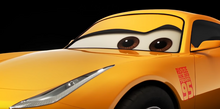 References