Rusty and Dusty Rust-eze
General Information
Gender

Male

Color

Green

Eye Color

Brown

Occupation

Rust-eze members and owners

Series Information
First Appearance
Performer

Tom Magliozzi - Rusty Rust-eze
Ray Magliozzi - Dusty Rust-eze
Rusty and Dusty Rust-eze are two brothers who founded Rust-eze Medicated Bumper Ointment.
History
Cars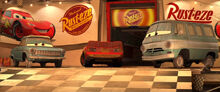 In
Cars
, Rusty and Dusty appear in the Rust-eze sponsor tent with several other rusty cars, showing a trailer of Rust-eze. Once
Lightning McQueen
is in his trailer, Rusty and Dusty both shout "Don't drive like my brother!"
Cars 3
Rusty and Dusty return in Cars 3. But they sell Rust-eze to Sterling because they don't have money to build the Rusteze Racing Center. As seen on end credits, they go on a vacation.
Other appearances
Rusty and Dusty also appeared in the "And Now a Word from Our Sponsor" story of World of Cars. In the story, Rusty and Dusty are searching for a new race car to represent Rust-eze, and Mack recommends Lightning McQueen, due to being a huge fan of the rookie. Although McQueen is unsure of his decision when the initial offer is put up, he agrees, as long as Mack can be his transporter.
General information
Physical descriptions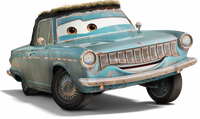 Rusty is a 1963 Dodge Dart that is painted in a dark shade of green, though he is very rusty, and the colors are a bit faded. His roof seems to be very dirty, and he has a grey bumper.
Dusty is a 1967 Dodge A100 Van that is also painted in a dark shade of green, but his rust makes the colors appear faded, like Rusty's. Dusty has a stripe across the middle of his body, that reads "DODGE" under his windshield.
Personalities and traits
Though Rusty and Dusty like to joke around a lot, they are both very kind, especially to each other, as well as Lightning McQueen. Both appear to treat their fellow rusty cars as a family.
Appearances
Profiles and statistics
Cars
Cars 3
Portrayals
Gallery
Names in other languages
| Idioma | Name | Meaning |
| --- | --- | --- |
| Polish | Czesio i Wiesiek Zadoluks | Czesio and Wiesiek Rust-eze |
| Spanish | Click y Cluck Rust-eze (Cars 1) | Rusty and Dusty Rust-eze (Cars 3) |
| Latin Spanish | Click y Clack Rust-eze (Cars 1) | Rusty and Dusty Rust-eze (Cars 3) |
| Brazilian Portuguese | Ferrugem e Poeira Rust-eze | Rust and Dust Rust-eze |
| German | Kling und Klang Rust-eze | Kling and Klang Rust-eze |
| Ukrainian | Брень та Дзень Іржопхан | Брень (Bren') and Дзень (Dzen') - this sort of translates to ding and dong. In this context, however, it means rattling of rusty metal parts. |
Trivia
References
Community content is available under
CC-BY-SA
unless otherwise noted.