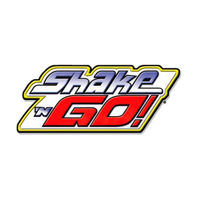 Shake 'n Go!
is a toy die-cast line, manufactured by
Fisher-Price
, that has released several characters from
Cars
,
Cars 2
,
Cars Toons
and
Planes
.
Toy Story
,
DC Super Friends
,
SpongeBob Squarepants
,
Thomas the Tank Engine
and original Shake 'n Go! Cars were also made.
Releases
Cars
Radiator Springs Lightning McQueen
Bling Bling Lightning McQueen
Dinoco Lightning McQueen
Tongue Lightning McQueen
Brand New Mater
Fabulous Hudson Hornet
Purple Ramone
Yellow Ramone
Ghostlight Blue Ramone
Hydraulic Ramone
Cars 2
Mater
Lightning McQueen
Ivan Mater
Hot Rod Mater
Cars Toons
Burnt Lightning McQueen
Rescue Squad Mater
El Materdor
Planes
Gallery
Phrases
Lightning McQueen (Original, Dinoco, Radiator Springs, Metallic Finish And Cactus Versions):
"Speed, I am Speed!"
"The Checkered Flag Is Mine!"
Bling Bling McQueen:
"Kachow, Ka-Kapow!"
"I Am Lightning McQueen!"
Tounge McQueen:
"I Am Faster Than Fast!"
"Boy, I Make This Look Easy!"
Mater (Original, And Young Mater Versions):
"Well, Dad Gum!"
"That Was Fuuuuun!"
Doc Hudson (Original And Fabulous Hudson Hornet Versions):
"Alright! We are back in Business!"
"You're gonna have to be fast."
Sheriff: To Be Added
Ramone (Original, Yellow, Red, And Ghostlight Versions):
To Be Added
Sarge:
To Be Added

Red:
(Siren Noises)
(Water Sprays)
Chick Hicks:
To Be Added
The King:
To Be Added
Snot Rod:
Burnt Lightning McQueen:
"Here Comes 900 Horsepower!"
"I'm All Dragged Up, And Ready To Race!"
Resque Squad Mater:
Look Out, Please Coming Through!
El Materdor:
"I Was A Famous Bulldozer Fighter"
"They Called Me, El Materdor"
and more.
Community content is available under
CC-BY-SA
unless otherwise noted.