Cobra Kai Season 4 - The Loop
Play Sound
Siddeley is a spy plane who works with Finn McMissile.
History
Cars 2
In Cars 2, Siddeley is first seen at the Haneda Airport on his way to pick up Finn McMissile and Tow Mater. During Finn and Mater's chase Acer manages to shoot at one of Siddeley's tires which causes him to pressure Finn to hurry up and get on board of him, which causes Finn to take lead and barely manage to get himself and Mater on Siddeley. While in the air Finn asks Siddeley to take him, Mater and Holley to Paris with Siddeley asking if he sure use his afterburners with Finn confirms him to. After that Siddeley does not make an appearance until the end of the film during the Radiator Springs Grand Prix with Holley stating that he's "gassed, geared, and ready to fly." Siddeley is last seen hovering in the air briefly giving a wink to the viewers and blasts off as the screen fades to black.
Cars 2: The Video Game
In Cars 2: The Video Game, Siddeley doesn't make a major appearance, however, he does appear in the game in one of the buildings in the Airport Arena.
Planes
In Planes, Siddeley can be seen at the Mexico City airport during the final stretch from Mexico back to New York City.
Planes: Fire & Rescue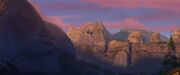 In Planes: Fire & Rescue, Siddeley can be seen delivering celebrities to Fusel Lodge at Piston Peak National Park.
Bio
Cars 2
Siddeley is a state-of-the-art British twin-engine spy jet. At 176 feet from nose to tail and an impressive 157-foot wingspan, the super sleek silver-bodied Siddeley streaks through international skies at record-breaking mach 1 speeds. Outfitted with all the latest in high-tech spy equipment, including cloaking technology, defensive weaponry and afterburners, Siddeley is Finn's steadfast partner-in-fighting-crime around the globe.
Model
Siddeley's design seems exact to a Gulfstream V aircraft.
Appearances
Feature Films
Video Games
Merchandising
Trivia
A113 appears on Siddeley's tail.
He is barely weaponized and relies on Finn or other armed vehicles to fight off enemies.
He has VTOL (Vertical Take-off and Landing) capability. Such designs are impossible on jets with his structure and the like.
The Latin on the British secret service emblem seen inside Siddeley reads, "Honor Courage Horsepower."
Siddeley's windscreen is a composition of metallic-coated fused silica quartz to withstand the temperature and speed at UV rays he may be exposed to during his high-speed trips.
Assuming that Siddeley is also a private transporter (in his other appearances), he may have contracts outside of Finn's field as a part-time job.
A model of a plane similar to Siddeley was in Andy's room in Toy Story 3.
The name 'Siddeley' is possibly a reference to the real-life airplane manufacturer Hawker Siddeley.
He appears in Planes at the Mexican airport.
He appears in Planes: Fire and Rescue landing on the Fusel Lodge.
Siddeley is the second character from Cars 2 to receive a Mini Racer. The first being Francesco Bernoulli.
Gallery
Cars 2: The Video Game
C.H.R.O.M.E. Missions
Unwelcome Aboard

•

In Plane Sight

•

Fast Friends

•

Airport Invasion

•

There's No Place Like Chrome

•

Oil Rig Showdown

•

Hit the Road

•

World Grand Prix

•

Runway Invasion

•

Porto Corsa Invasion

•

Objects in Mirror

•

Airport Showdown

•

Burning the Midnight Oil

•

Coastal Invasion

•

Runway Runaway

•

Harbor Hassle

•

Power Surge

•

London Showdown

•

Foe Interior

•

Hit or McMissile

•

Unfriendly Competition

•

Air Power

•

Rush Delivery

•

Italy Showdown

•

Tokyo Invasion

•

Save the Queen

•

Sour Lemons

•

Lightning the Mood

•

Home Security

•

Tokyo Showdown
Further info
Beta elements

•

Staff