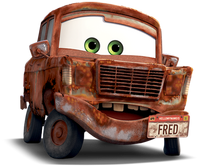 Stodgey
is a fictional car trademark in the
Cars
universe. It produces makes and models of all sorts, such as race cars. In
Cars
, a few of the older Piston Cup competitors are Stodgeys.
Models
Trivia
The Stodgey Suaver LT is very similar to the 1972 Shyster Cremlin, of which Otis is, and the EX is similar to Chick Hicks' model, the 1979 Shyster Cremlin.
The company's name is likely a portmanteau of Dodge (another car company)and the adjective Stodgy meaning dull and uninspired;lacking originality or excitement.
Community content is available under
CC-BY-SA
unless otherwise noted.