Wiki Targeted (Entertainment)
Play Sound


T.J. Hummer
Character Information
Gender

Male

Eye color

Blue

Occupation

Aspiring rapper

Performer
"Man, now I've got dirt in my rims!"
—T.J. Hummer, Cars
T.J. Hummer is a Hummer that attends Sarge's SUV Boot Camp in Cars and Sarge's Boot Camp. He is an aspiring rapper who seems to care a lot about his appearance, and dislikes receiving scratches or dirt in his rims.
T.J. is a Hummer H1 Civilian Style that is painted green, with chrome decals. T.J.'s license plate reads "TUF GUY", although some releases of his die-cast misspell it as "TUF GUE". His top speed is 96 mph (154 km/h) and he has 300 HP.
History
Cars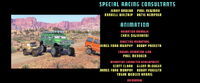 In Cars, T.J. appears during the film's epilogue sequence, in which he, Charlie Cargo, Frank "Pinky" Pinkerton, and Murphy are seen attending Sarge's Boot Camp, where Sarge is lecturing them on off-road driving. Sarge orders them to practice, and while the other three SUVs start on their way, T.J. is hesitant, but after being yelled at by Sarge, he begins driving down the hill as well, though he complains about the dirt that is getting in his rims.
Other appearances
T.J. also makes an appearance in the book Sarge's Boot Camp, in which he attends the boot camp. Though initially nervous about getting dirty, T.J. realizes he likes the camp, and overcomes his fears.
Appearances
Profiles and statistics
Cars
Bios

"T.J. Hummer comes from a long line of military vehicles, but growing up in the gated communities and private schools of Bloomfield Hills, Michigan, T.J.'s idea of off-roading was going over potholes on Woodward Avenue. An aspiring rapper, T.J. likes looking tough, without scratching his paint or getting dirt in his rims, but that all changed when his father signed him up at Sarge's Boot Camp for Urban SUV's."
Gallery
Quotes
"Yo, I've never been off-road!" - Cars
Trivia