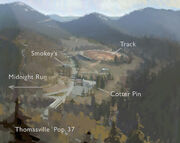 Thomasville
is a city in the
United States of America
. Thirty-seven cars have lived there in 2018.
Known Inhabitants
Places
Thomasville Logging Camp
Thomasville Mines
Trivia
The Thomasville Mines and Logging Camp are two places in Thomasville that do not appear in the movie. They are both exclusive tracks from Cars 3: Driven to Win.
In Cars 3: Driven to Win, there is a small area in Thomasville that serves as the "Thomasville Playground", where players have no objective and are free to explore.
Community content is available under
CC-BY-SA
unless otherwise noted.