"And my name is not Chuck!"
This article's title is conjectural, meaning an unofficial name has been given to the subject by editors as a result of no existing official name.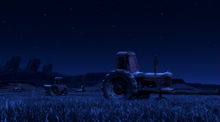 The Tractor Pasture is a field where Tractors graze in Radiator Springs. Frank watches over the Tractors to ensure that they are safe and out of trouble. Lightning McQueen and Mater often visit the Tractor Pasture to play Tractor Tipping.
History
Cars
When Sheriff puts Mater in charge of watching Lightning McQueen overnight, the two sneak off to the Tractor Pasture, where Mater teaches McQueen how to play Tractor Tipping - one must simply drive up quietly to a sleeping Tractor and rev their horn, causing the startled Tractor to tip over. After McQueen revs his engine and wakes up all of the remaining Tractors simultaneously, Frank arrives, and Mater and McQueen make their escape, but forget to close the gate. The next day, the Tractors stampede Radiator Springs, causing trouble for the townsfolk.
It also appears in Cars: The Video Game, Cars: Mater-National Championship, and Unidentified Flying Mater.
Gallery
"Pit Stop!"
This article is in need of a pit stop so it can be at full speed. You can help Guido by expanding this page.
Community content is available under
CC-BY-SA
unless otherwise noted.