Trev Diesel
General Information
Gender

Male
Female (according to Meet the Cars)

Color

Red, orange, white

Eye Color

Blue

Occupation

Pacific Flyer Railroad cargo train

Series Information
First Appearance
Trev Diesel is a diesel-electric locomotive that works as long sturdy streamlined cargo train for Pacific Flyer Railroad, operating in the United States.
History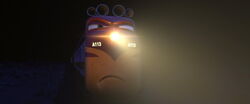 Trev is a diesel-electric locomotive, that has been working for Pacific Flyer Railroad as long sturdy streamlined cargo train for many decades. During that time he has seen the construction and opening of Interstate 40 and following downfall and disappearances of the small towns he used to pass through. Trev loves nighttime trips across the desert under the light of the full Moon as it gives him time to be alone and feeling of continuity in his life.
In 2006 during one of his travels across the United States, he almost crashed with Lightning McQueen who passed through the railroad crossing narrowly avoiding a collision with Trev.
Physical description
Trev is a 1949 EMD F3 Trevithick Streamlined Electro-Diesel Locomotive. He is painted red and orange, with thin black stripes painted on the white background across his sides. Trev's train registration number is A113.
Official biographies
Cars
Working for Pacific Flyer Railroad, Trev Diesel has seen a lot of changes alongside his tracks. He's witnessed the coming of the Interstate and the disappearance of many of the small towns he used to pass through, but he's still going strong. He still loves pulling a long haul across the desert at night. It's so peaceful - just Trev, the full moon, and the jackalopes.
Trev Diesel has seen a lot in her time on the railroad, from the dawn of the Interstate to the vanishing of tiny towns. Through it all, Trev chugs on strongly and loves nothing more than a nighttime trip across the desert, beneath a full moon - the one thing in Trev's life that remains constant.
Trivia
The code on Trev's headlights, A113, is a code that is present in several Pixar films. It is a reference to the classroom in Calarts, where several Pixar animators attended.
In Planes: The Video Game, several trains that look similar to Trev appear on the Deadstick Desert landmark. However, these locomotives do not have red lines on their fronts, and the red paint on his front does not merge into the orange paint.
While referring to Trev, Car Finder uses male pronounce while Meet the Cars female.
In the 2017 edition of book Meet the Cars, Trev's model was describes as JLS Electro-matic.
Appearances
Gallery
Sources
See also
Community content is available under
CC-BY-SA
unless otherwise noted.