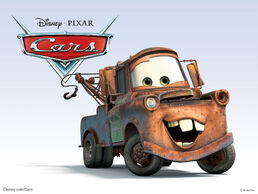 Hello! My name is Brandon and I am a die hard Cars fan. 
Cars Die Cast Collection'
This is my Cars Die Cast collection. They are in chronological order. Not by favorites. 
Cars University
Cars University is a fan-made cars series that I made up. It centers are round a university that is located in the state of Iowa. Lightning McQueen is one of the coaches for the cars majoring in racing.
Brandon Imprezwell is the main protagonist of the series. Following in the rally heritage of his ancestors, this Subaru STI is popular amongst the other cars. Brandon has dreams of someday joining the WRC. Only time will tell if he has what it takes. He is a 2011 Subaru Impreza WRX STI played by YouTube personality, Brandon Walker.
Lance Evoson is the deuteragonist of the series. He is Brandon's best friend who also plans to be in the WRC someday. They became friends after their "unofficial" dirt race. Lance is not as popular as Brandon, but in Brandon's high beams, he is still awesome. He is a Mitsubishi Lancer Evolution X and is played by Nick Jonas.