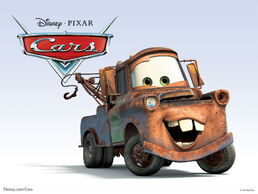 Hello! My name is Brandon and I am a die hard Cars fan. 
Cars Die Cast Collection'
This is my Cars Die Cast collection. They are in chronological order. Not by favorites. 
Cars University
Cars University is a fan-made cars series that I made up. The setting takes at the University of Des Autopolis that is located in Des Autopolis, Iowa. Lightning McQueen is one of the coaches for the cars majoring in racing.
Brian Mustangburger is the main protagonist of the series. He is the grandson of Brent Mustangburger and because of that, he is popular amongst the other cars. Will has dreams of joining the SCCA someday in the future. Only time will tell if he's got what it takes. Lightning McQueen stays on him, that's for sure. Brian is a Ford Mustang Boss 302 and is voiced by Nick Jonas. 
Gregory McCamaro is the deuteragonist of the series. He is Brian's best friend and also has dreams of joining the SCCA. Leo is also Jeff Gorvette's cousin and sometimes races against him during his freetime. Leo has pretty much the same personality as Rod Redline as he is cool and knows how to stay calm in odd circumstances. Gregory is a Chevy Camaro ZL1 and is voiced by Emblem3's Drew Chadwick. 
Chloe Ford is the tritagonist of the series. She is Brian's girlfriend and they are often referred to as "Broe". Chloe is described as sweet and kind. Unlike Brian, who specializes in asphalt sports, she's into dirt racing and has taken on the skill from her forefathers of Ford's Team RS in Europe. Chloe wants to join the WRC and is a big fan of Travis Pastrutna. She is a Ford Focus RS and is voiced by Ally Brooke from Fifth Harmony. 
Antonio Gallardo is the main antagonist of the series. He is a snotty and rude car who is training to be part of the Lamborghini Blancpain Super Trofeo. Antonio likes to boast about his superiority and looks down upon other cars, especially Brian. This can lead him into trouble. Antonio's mannerisms and speech patterns are simular to Steve Morris, a varsity running back from the Bluford Series. He is a Lamborghini Gallardo and is voiced by Taylor Lautner. 
Community content is available under
CC-BY-SA
unless otherwise noted.