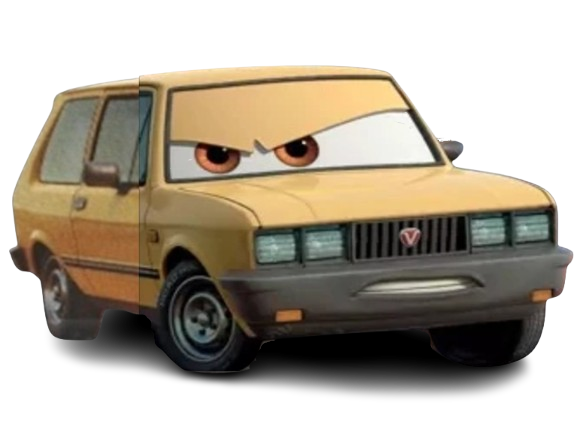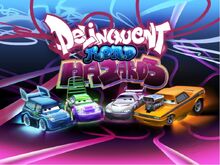 Hey guys!              
Favourite Characters
. Mater
. Mator
. Vince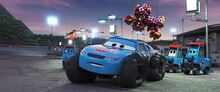 . Komodo
Die-Cast Collection
This article or section is under construction.
This article or section has been marked as being under construction, indicating parts are unfinished or inaccurate. Please help contribute by adding photos and information, correcting mistakes, and improving the overall quality.
Cars
Lightning McQueen
Cruisin' Lightning McQueen
Tongue Lightning McQueen
Paint Mask Lightning McQueen (Lenticular)
Lightning McQueen with Shovel
Radiator Springs Lightning McQueen
Spin Out Lightning McQueen
Cactus Lightning McQueen
Impound Lightning McQueen
Dirt Track Lightning McQueen
Tumbleweed Lightning McQueen
Night Vision Lightning McQueen
Dinoco Lightning McQueen
Lightning Storm
Bling Bling Lightning McQueen
Mater
Brand New Mater
One Eye Mater
Doc Hudson
Sally Carrera
Ramone
Green Ramone
Yellow Ramone
Old School Ramone
Cruisin' Ramone
Ghostlight Ramone
Luigi
Ferrari Fan Luigi
Guido
Ferrari Fan Guido
Flo
Sherrif
Fillmore
Pit Crew Member Fillmore
Saluting Sarge
Lizzie
Stanley (missing)
Red
DJ
Boost
Snot Rod
Wingo
The King
Damaged King
Mrs. The King
Chick Hicks
Chick Hicks with Piston Cup
Dinoco Chick Hicks
Dinoco Showgirl 1 and 2
Rotor Turbosky
Darrel Cartrip
Rusty Rust-eze
Dusty Rust-eze
Mia and Tia
Dinoco Mia and Tia
Golden Mia and Tia
My Name Is Not Chuck
Mack (Hauler)
Barney Stormin
Marco
Stu Bop the Jet
Chuki
Ron Hover
Chuck "Choke" Cables
Skip Ricter
Chuck Manifold
Jay Limo
Bob Cutlass
Tim Rimmer
Marlon "Clutches" McKay
Race Official Tom
Charlie Checker
Tow
Tex Dinoco
Fabulous Hudson Hornet
Pit Crew Member Fabulous Hudson Hornet
Elvis RV
Dale Earnhardt Jr.
Gray Hauler
Luke Pettlework
Chick Hicks Hauler
Aiken Axler
Billy Oilchanger
Dudley Spare
Winford Bradford Rutherford
RPM Hauler
"Petrol" Pulaski
RPM Crew Chief
Dirkson D'Agostino
Trunk Fresh Hauler
Claude Scruggs (missing)
Chuck Armstrong
Todd Marcus
Kevin Racingtire
Shifty Drug Hauler (mostly pink version)
Crusty Rotor
Ernie Gearson
Manny Flywheel
Greg Candyman
Eugene Carbureski
James Cleanair
Darren Leadfoot
Ponchy Wipeout
Slider Petrolski
Sidewall Shine Hauler
Haul Inngas
Ruby "Easy" Oaks (missing)
Kevin Shiftright
Murray Clutchburn
Misti Motorkrass
Dave Alternators
Sage VanDerSpin
Lee Revkins (missing)
Floyd Mulvihull
Brush Curber
Ryan Sheilds
Johnny Blamer
Ralph Carlow
Rusty Cornfuel
Jerry Recycled Batteries
Paul Valdez
Gil
Dustin Mellows
Greta
Hank "Halloween" Murphy
Edwin Kranks
Frank
Leroy Traffik
Fred
Ferrari F430
Antonio Veloce Eccelente
Costanzo Della Corsa
Mario Andretti
Bessie
Woody
Buzz
Hamm
Mike
Sulley
Yeti
Flik
P.T. Flea
Donna Pitts
Jonathan Wrenchworths
Marilyn Stickers
Nick Stickers
Kathy Coptor
Vern
Craig Faster
Murphy
Charlie Cargo
Wally Hauler
Van Scanlane
Cars 2
Lightning McQueen with Racing Wheels
DK Exclusive Lightning McQueen
Ronnie Del Cooper
Race Team Mater
Funny Car Mater
Materhosen
Mater Kabuki
Finn McMissile
Submarine Finn McMissile
Hydrofoil Finn McMissile
Security Guard Finn
Holley Shiftwell
Professer Z
Red
Radiator Springs Ramone
Hydraulic Ramone
Francesco Bernoulli (metallic, K-Mart special)
Jeff Gorvette (metallic)
Carla Veloso
Denise Beam
Raoul Caroule (metallic, K-Mart special)
Miguel Camino (metallic)
Lewis Hamilton
Max Schnell
Max Schnell Pitty
Shu Todoroki
Nigel Gearsly
Rip Clutchgoneski
Acer
Grem
Vladimir Trunkov
Victor Hugo
Petrov Trunkov
Don Crumlin (missing)
Tolga Trunkov
Miles Axlerod
Rod "Torque" Redline
The Pope
Mel Dorado
Brent Mustangburger
David Hobbscap (with headphones)
Darrel Cartrip
Carlo Maserati
Tomber
Sal Machiani
Zen Master
Kingpin Nobunaga
Pinion Tanaka
The Queen
Topper Deckington III
Becky Wheelin
Crabby
Officer Murakarmi
Jerome Ramped
Eric Lanely
Alex Karvill
Honk Cho
Nick Pit-Tire
Alexis Wheelson
Mark Wheelsen
Long Ge
Memo Rejos, Jr.
Vitaly Petrov
Jan "Flash" Nillson
Cars 3
Cal Weathers
Brick Yardley
Chip Gearings
Smokey
Tim Treadless
Minny
Van
Daniel Swervez
Dinoco Cruz Ramirez
Miss Fritter
Chick Hicks with Headset
Bobby Swift's Hauler
Reb Meeker
High Impact
Dud Throttlemen
Jimbo
Dr. Damage
Tommy Highbanks
Jackson Storm
Chester Wipplefritter
Fabulous Lightning McQueen
Cars 3 Lightning McQueen
Francis Beltline
Hit & Run
Superfly
Broadside
Pushover
Fishtail
Tailgate
Cigalret
Cars 3 Ponchy Wipeout
Sterling
Buck Bearingly
Roscoe
Parker Brakeston
Cars 3 Ernie Gearson
Dirt Track Fabulous Hudson Hornet
"Jet" Robinson
Heyday Smokey
Metallic Florida Ramone
Shannon Spokes
Rust-eze Racing Center Lightning McQueen
Cars Toons
Dragon Lightning McQueen
Kabuto
Komodo
Teki and Paki
Ito-San
Wide Load
Van-San
Rescue Squad Mater
Rescue Squad Chopper
Burnt Lightning McQueen
Rescue Squad Ambulance
Dr. Mater
Nurse Kori
Nurse GTO
Orderly Pitties
Mater The Greater (missing)
Burnt Mater the Greater
Lug
Nutty
Lightning the Greater
Buck the Tooth Vendor
Snorkeling Mater the Greater
El Materdor
The Tormentor
Frightening McMean
I-Screamer
Rasta Carian
Patty-O-Concrete
Referee Pitty
Eddie
Rocky
Mater Plane
Mater Hawk
Lightning McQueen Hawk
Moon Mater
Moon McQueen
Shifty Sidewinder
Gallery
Community content is available under
CC-BY-SA
unless otherwise noted.